Environment´s information
Extabarri is located on the feet of the rock of Azanza of the mountain chain of Urbasa, it was declared natural park in 1997, where there are big forests of oaks, beech, oak and "foot" in where the latxas sheep and horses pasture. Over its skies we can watch the flight of the vultures and other raptors which nest in the "roquedanos".
Its beautiful church of the Asunción, Romanesque with gothic touches, with its wonderful altarpiece and the carving of the Virgin Iranzu worth being known.
The festivities are celebrated in August and on Halloween the traditional photographic Rally and the lunch of chestnuts.
The plateau is one of the preferred for the excursionist and hikers and mountaineers, it is an ideal place for mountain cycling. A few distance of the village there are the spectacular rocks of Etxabarri and San Fausto, it is suitable for climbing. 6 km away it is one of the most beautiful corner of Navarre, the birth of the Urederra river.
1,5 km from the village we have a new covered pediment, football pitch and playground. 7 km away is Estella.
In the surroundings and with a radio of 10 km there are the Iranzu Monastery,Monastery Iratxe, Eunate, Lerate Marsh, Alloz Reservoir, and several municipal swimming pools. Speed circuit en Los Arcos 20 km. 26 km from Carboneras del Valle de Lana.
Boat Sport and bath in the reservoir Alloz, hiking, walking, climbing, mountain biking, tour the interpretive center Urbasa, horseback riding in Muru ... Taking advantage of the proximity of Estella can stroll through the historic quarter and visit the weekly market on Thursdays…
Just half an hour, we have Pamplona, Logroño, Tafalla, castle of Olite, Bridge la Reina, Lordship of Bertiz 95 km away.Castle of Javier 105 km, Royal Bardenas 100 km away.
1 hour approximately from San Sebastián, Vitoria and Bilbao.
 
We don´t have to forget that Navarra is a land of wines and wonderful seasonal products like peppers, artichokes, asparagus, calbotes, peaches, chard, white beans.
Etxabarri de Allín
Small and quiet village of 50 inhabitants in the nearby of the river Urederra river and on the feet of the peaks of its name which attract to walkers. Tradition of charcoal. Assumption´s Parish with a good tableau and the Virgin of Irantzu. You can see the first Spanish museum about the truffle
Tours

* Mountain chain of Urbasa.
* Barth of the Urederra River.
* Historic monumental old town of Estella.
* Roman Road of Zirauki.
* Reservoir of Alloz.
* Monastery of de Santa María de Irantzu.
* Monastery de Iratxe.
* Natural Park of Urbasa-Andía.
* Green via of the Basque-Navarre railroad.
* Archaeological Museum of Arellano.
* Romanesque villa of Arellano.
Activities
Hiking, Water Sports, Caving, Climbing, Mountain Biking, Horseback Riding, Pediment, etc ...
WHERE TO GO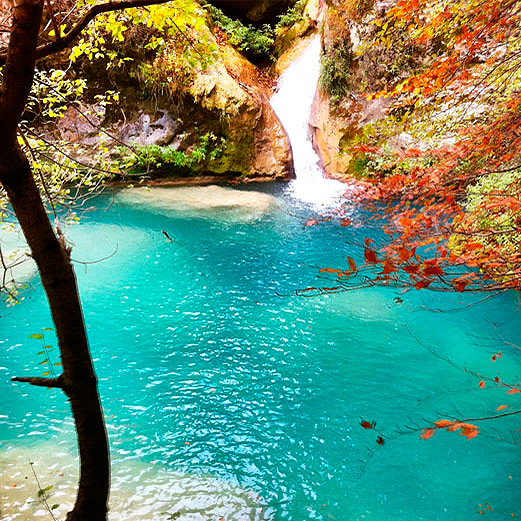 Nacedero del río Urederra
El manantial donde nace el río Urederra es de ensueño escondido a los pies de las murallas de piedra caliza de la sierra de Urbasa, el símbolo de los bosques navarros . Toda una una auténtica maravil...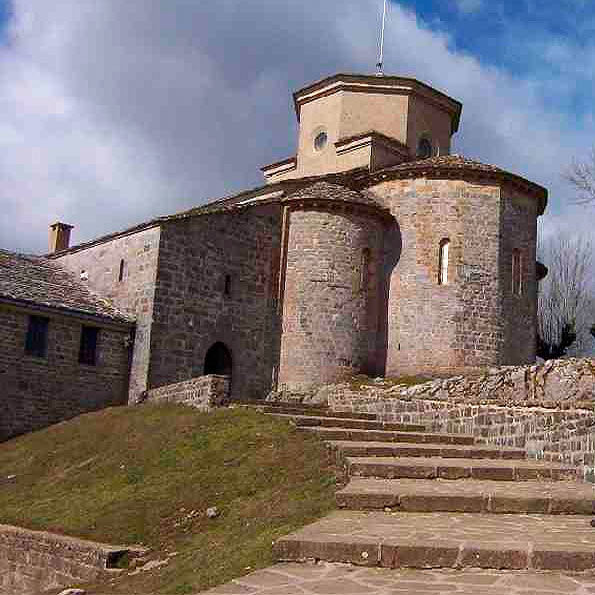 Santuario San Miguel de Aralar
Constituye uno de los centros de espiritualidad más conocidos de Navarra. Es un templo románico con tres naves y tres ábsides localizado en lo alto de la sierra de Aralar, desde donde se divisa una pa...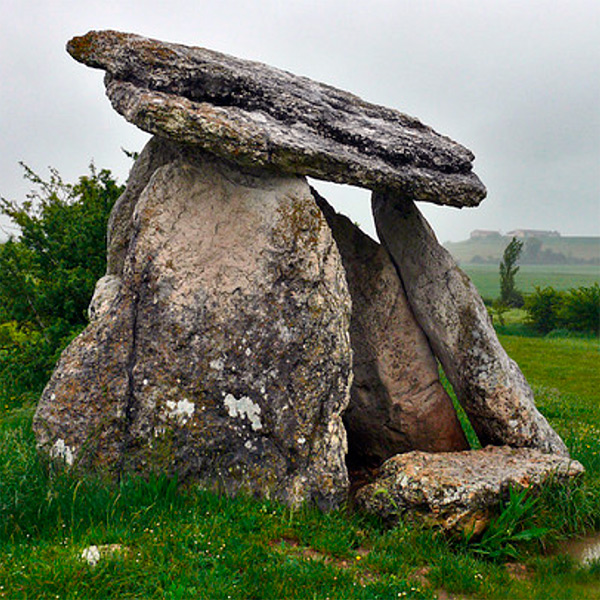 Dolmenes en Cuadrilla Salvatierra
Los dólmenes de La Llanada alavesa oriental, es decir de la Cuadrilla de Salvatierra, son dos de los más fotogénicos de Euskadi, además se encuentran perfectamente señalizados e indicados con letreros...
UPCOMING EVENTS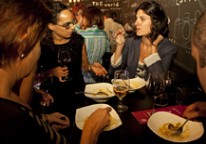 Semana de la Cazuelica y el Vino
En Pamplona, del 4 al 13 de octubre
El calendario gastronómico de Navarra tiene una cita imprescindible en otoño, la Semana de la Cazuelica y el Vino. Se trata de una ocasión única para dar a conocer el carácter de la cocina regional, q...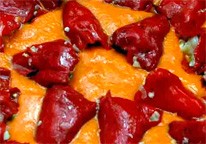 Día del Pimiento del Piquillo
En Lodosa, del 4 al 6 de octubre
En otoño, Lodosa dedica una fiesta a su producto más preciado: el oro rojo de la huerta, el pimiento del piquillo. Una jornada-homenaje en la que Lodosa se llena de puestos de alimentación, ofrece deg...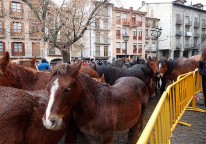 Feria de San Andrés
En Estella/Lizarra, del 30 de noviembre al 1 de diciembre
Tiene lugar en la Plaza de Santiago la tradicional exhibición de ganado y en la vecina Plaza de los Fueros, se expone una muestra de artesanía de la comarca. Además, a lo largo de toda la jornada se ...