Reservations
If you do wish to contact us via one of the following numbers:
Or if you prefer, fill out and submit the form below and we will contact you as soon as possible.
IMPORTANT
These bookings have not legal basis and they will have to be confirmed by the same accommodation to be effective
Check the availability in the calendar for the dates you want.Thank you very much.
CONDITIONS OF BOOKING
When the booking is made with enough time, the customer must the customer must pay a corresponding advance, the 40% of the total of the booking in a no superior time of 48 hours from the request of the booking, through the transfer directed to owners of the cottage.
The rest of the amount will be paid when the arriving to the house.
The prices here indicated are with the VAT included and the use of sheets, blankets and towels is included as well as the cost of electricity and heating.
The price of the accommodation will be referred on overnights or days, beginning at the 17 hours and finishing at 12 hours. For any change of the timetable ask with the owner.
The cleaning of the cottage is corresponded to the customers during the stay. Ask for the pets, we have free cot and extra beds.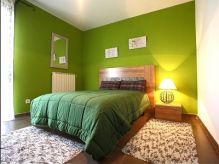 Oferta Especial Verano
Antes:
1250€
Ahora:
950€
24%

Dto.
Larga estancia
Quincena
Casa entera / 8 + 2 plazas
Meses de mayo, junio, julio, agosto y septiembre se alquila por quincenas a 950€ la casa completa.